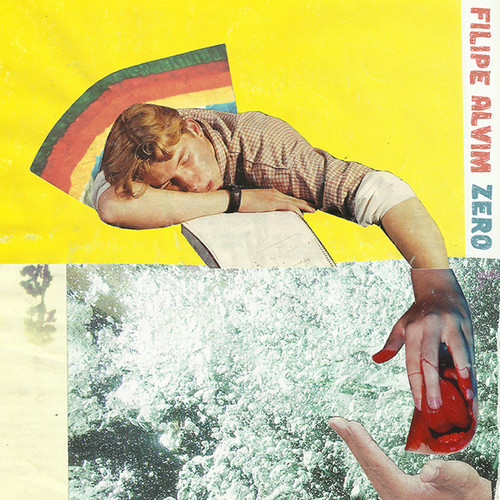 Após tentativas frustradas de montar bandas em Juiz de Fora, Filipe Alvim foi passar uma temporada no Rio de Janeiro decidido a fazer sucesso em carreira solo. Sob o sol carioca e acompanhado de novos amigos, ele gravou Jardim do Amor, cujos versos poderiam ter sido escritos por Jorge Ben ou por um garoto durante o intervalo da escola. Embalado por arranjos tropicais, Filipe abdica de algumas rimas enquanto faz questão de esbarrar no máximo de clichês; e, quando a fórmula ameaça desandar, a canção termina antes dos dois minutos. Sem tempo hábil para decidir se gosta ou não de algo tão piegas, só resta ao ouvinte a certeza de que precisa ouvi-la mais uma vez. Nascia um hit, provando que aquele moleque de 19 anos servia para alguma coisa.
Mas nem todos os dias são ensolarados. Durante um ano morando em Belo Horizonte, Filipe amargou tardes entediadas que inspiraram Sofá e Passageiro, duas faixas que destilam pequenas doses melancolia juvenil. Sem sucumbir à apatia, ele reuniu ânimo para encarnar uma guitar band e gravar mais dois petardos: Domingo, que ainda vai curar muitas ressacas com seu refrão guiado por guitarras que evocam os anos 90, e A Divisão, uma espécie de shoegaze acidental, onde uma sólida camada de guitarras convive com mais uma letra simples e honesta.
Terminado o processo de gravação dessas cinco músicas, Filipe Alvim se considerava outra pessoa. Com 22 anos, pai de uma pequena garota, acumulando problemas e novas composições, ele retornou a Juiz de Fora, onde conheceu seus conterrâneos da Pug Records, que acaba de lançar o EP que Filipe batizou como ZERO, gravado numa época em que ele achava que não sabia nada da vida.
Born far away from the Brazilian coast, Filipe Alvim is a 22-year-old unemployed who doesn't know how to do anything, except creating sunshiny pop gems about teenage doubts. Merging 90's guitars, groovy arrangements and sweet choruses, his languid ballads and little walls of noise will please boys and girls who believe that the next day can be more fun than the previous. ZERO, his debut EP, is an incredibly fresh juice, even if it's made from fruits you already know, including a few bitter ones.
While a lot of Brazilian alternative bands are trying to sound tropical in order to – just like Carmen Miranda back in the 1940's – make sense to foreign audiences, Filipe is talking to other youngsters who couldn't care less about any of that stuff. Despite the radio-friendly production of this debut, his DIY instinct carried him to join Pug Records, home to some guitar bands recognized by their homemade noises. ZERO is available for free download and in a nice 3″ CDR.
O INIMIGO: "Filipe Alvim pode ser a próxima-grande-coisa-a-sair das entranhas de uma cidade interiorana para o inesperado hype virtual. Zero, o disquinho despretensioso que Alvim lançou em setembro desse ano via Pug Records, é um injeção de ânimo contra a monotonia e o saco cheio. Com pelo menos um hit em potencial (a grudenta 'Domingo') e nacos de poesia cotidiana e sincera em "Jardim do Amor" e "Meu Sofá", o EP costura de forma certeira influências noventistas com um sotaque pop, brasileiro e urbano, passando longe de qualquer regionalismo forçado."
BEATS PER MINUTE: "A collection of reverb and acid-pop drenched songs (…) exploring various aspects of teenage angst through churning ballads and jangly pop rhythms – drawing apt comparisons to artists such as Jackson Scott and Mac DeMarco.  Turning strands of melodic indie rock and gently persuasive harmonies inside out, Alvim creates songs that harken back to the psych indebted pop music of the 60′s while keeping one foot clearly on this side of the timeline. His lyrics, while strictly sung in Portuguese, are nonetheless evocative and create a roiling accompaniment for his stripped down instrumentation."
IN YOUR SPEAKERS: "Filipe Alvim's new song 'Domingo' can be enjoyed by anyone, regardless of the fact that it's sung entirely in Portuguese. Filled with catchy guitar riffs and warm melodies, Zero is a must-have for anyone with an optimistic outlook on life."
LOWZINE: "No EP de pouco mais de 10 minutos, Filipe Alvim vai do jangle pop ao samba-rock de um Jorge Ben, sem perder a característica lo-fi/noise pop dos lançamentos da Pug Records. Um detalhe, todas as letras português. Recomendadíssimo."
LISTEN WITH MONGER: "Filipe Alvim is a Brazilian living in Brazil and creating music for the youth of Brazil, not for tourists. This EP is a fantastic example of what can be found on the world music scene if you're prepared to forgo the fact that you might not understand any of the lyrics.  'Domingo' opens proceedings and instantly all you can imagine is the Strokes jamming lazily by a beach hut. "Jardim do Amor" is a Doors-esque, organ smothered tune with sunshine dripping from every pore and a sense of French pop romance. (…) Anyone channelling the Strokes, the Beach Boys and, well, the sun, can be a bad person. So, let's all fall in love with Filipe Alvim and let him bring a little sunshine in to our lives."
em breve…
---
Related Posts
---