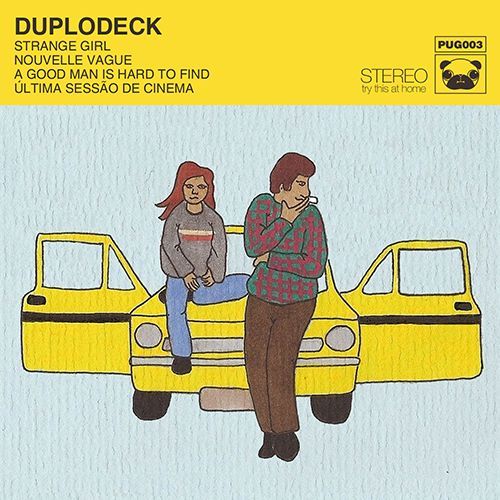 O único consenso entre os seis integrantes da duplodeck era a admiração por Jorge Ben. A imprensa chegou a chamá-los de Stereolab brasileiro, título insuficiente para definir sua sonoridade, que remete também a Pixies, Comet Gain e Deerhoof, entre outros. Nascida em Juiz de Fora, Minas Gerais, a duplodeck existiu entre 2001 e 2005 – período em que compôs um vasto repertório, mas gravou apenas um EP jamais lançado. Em 2011, a Pug Records disponibilizou o debute homônimo para download gratuito, além de prensar uma versão estendida em cassete. O lançamento incentivou o retorno da banda, que entre 2012 e 2013 gravou novas músicas para um disco cheio previsto para o segundo semestre de 2014.
O lado B da versão em K7 reúne raridades das quais nem mesmo a banda tinha conhecimento. Seus 60 minutos abrangem apresentações ao vivo, ensaios embriagados e jam sessions. Essas faixas extrapolam o formato pop do EP, seja em direção a ruídos shoegaze ou a dedilhados de bossa nova. Tal diversidade também passa pelos dois covers: uma releitura do clássico My Girl, dos Temptations, com ecos de Beulah, e uma versão do hit pós-punk Another Girl, Anothet Planet, do Only Ones.
The only unanimity among the members of duplodeck was their admiration for their compatriot singer-songwriter Jorge Ben. The press once called them the "Brazilian Stereolab" – rather narrow title for a band that also resonated Pixies, Comet Gain and Deerhoof, to name a few. Conceived in Juiz de Fora, Minas Gerais, duplodeck existed from 2001 to 2005 – time in which they wrote a huge amount of songs, but recorded only one never issued EP. In 2011, Pug Records made the EP available for free download, also compiling an extended version in cassette. The release has encouraged a reunion of the group – they recorded a full-length album for the end of the year.
The cassette B-side brings rarities that not even the band members were aware of. In addition to the EP songs, the bonuses encompass live performances, drunken rehearsals and jam sessions. Towards shoegaze noisemaking or bossa nova harmonies and beats, these tracks escape from the EP's pop format. Such diversity also shows in the two covers: a Beulah-resembling reinvention of Temptations' My Girl and an appropriation of the post-punk hit Another Girl, Another Planet, from The Only Ones.
Tympanogram (USA): "Their 5-track EP is quite varied in sound. The fun garage-pop of "Strange Girl" – with its loud and nearly out of control guitars flailing all over the place – would fit perfectly amongst the songs of 90s' rock revival band, Yuck. Contrasting this sharply is "Nouvelle Vague," which anyone would immediately confuse with Stereolab. The soaring female lead vocal combined with vibes, vintage keyboards, that lounge-y relaxed tempo and groove captures the essence of seemingly hundreds of Stereolab songs in a little more than 4 minutes."
Track Each Day (England): "The song (Strange Girl) to be found under the tinny layers of noise is a beautiful and emotional throw-back to proper nineties college rock, free of pretention and focused on crashing guitar riffs and lyrics detailing the ups and downs of teenage romance."
Miojo Indie (Brazil): "Alguns torrões de açúcar e guitarras distorcidas, alguns toques de romance e outros de esquizofrenia, essa é a fórmula encontrada pela banda mineira Duplodeck para desenvolver sua própria sonoridade. Em seus momentos mais "raivosos", como o que é ressaltado em Strange Girl, o baixo pulsante não esconde: Kim Deal e seu Pixies são uma das paredes que edificam a pequena morada instrumental da banda. Já em seus momentos mais "adocicados" são as referências aos sons do Deerhoof (algo raro em solo tupiniquin) que viabilizam a condução das músicas."

01. Strange girl
02. Nouvelle vague
03. A good man is hard to find
04. Última sessão de cinema
05. I'm sure (live)
Alex Martoni (vocal, guitar), Fran (vocal, keyboard), Maria (guitar, backing), Gui (bass), Rodrigo (guitar, vibraphone, backing), Ricardin (drums), Fred (drums on track 5).
All tracks recorded by Adauto Villela between 2002 and 2003. Except track 5, recorded live in 2001. Mixed in 2010 by André Medeiros and Adauto Villela. Mastered by Paulo Casaes. Tracks 1, 3 and 5 by Alex Martoni. Track 2 by Edson Leão. Track 4 by duplodeck. Cover painting by Dea Lellis.
---
Related Posts
---